Update (10/13/2014)
Submitted by

Gary

on Mon, 10/13/2014 - 08:44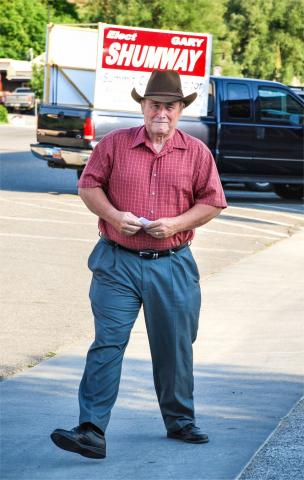 I am rather rushed this morning as I have an event in Sugarhouse relative to my campaign to be your next Summit County Auditor. More on this in a week or two. That said, last Friday we handed out fliers at the NS vs SS high school football game in Coalville. Saturday our first (oh, wait, did I say first?) Park Record ad came out and I am getting good reviews re: same. The Park Record Voter's Guide comes out this next Saturday along with most (or all) of the six questions they asked us to answer...in 150 words or less.
This past Saturday we also walked some of the Park Meadows North precinct. We have more to do there, that's for sure. We also spent about four hours going around the County and putting up and fixing signs. We did get back a number of our signs that were pulled by a citizen a week ago last Friday and we got them posted again. Sunday turned out to be rainy and cold so we spent the day recuperating, working on campaign loose ends, and putting together income tax paper work for Uncle Sam which is due Wednesday.
While out and about the County I did note that my opponent has 3 or 4 signs out in yards in Henefer so I put a few more out in that area. I think that makes a total of about 8 signs of his I've seen. We only have about 300 out so I guess he figures he has the upper hand, being a Democrat in a Democrat controlled county. But it just doesn't seem like he is really working for your vote. I know, call me old fashioned. I suspect he would work about as hard if he were elected Summit County Auditor, just saying. I will say he seems supremely confident, but isn't one of the dictums of war, never underestimate your enemy (OK, opponent in this case)? We are doing all we can to ensure that he won't have a grin on his face (assuming he actually wants to be elected) come November 5th. I believe he won't.
Vote Gary Shumway for your Summit County Auditor ... because it's about YOUR money!
Take care and until next time,
Gary